UIndy's School of Education offers undergraduate and graduate programs in classroom teaching and education administration. Our teacher education programs are accredited by the National Council for Accreditation of Teacher Education.
The School is known for leading-edge programs and supportive, experienced faculty who have strong relationships with central Indiana schools. In fact, our teacher education department was nationally recognized for its partnerships with local K-12 schools through the 2013 Model of Excellence Award in the Partnerships category from the national Association of Independent Liberal Arts Colleges for Teacher Education.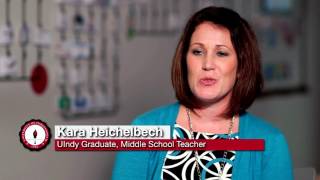 All programs emphasize applied learning from the very start, so students are well prepared to be successful teachers and principals upon graduation.
The School of Education also collaborates with UIndy's Center of Excellence in Leadership of Learning (CELL).
Our undergraduate programs include majors in Elementary Education (K-6) and Secondary/All-Grade Education (5-12 and PreK-12 in music, art and PE/health). These programs prepare students to teach in a variety of school settings. Students also can earn specialized licenses or certificates in special education and reading.
UIndy's graduate teacher licenses and certification programs are designed for current teaching professionals seeking additional training to stay on top of emerging learning technologies and practices. We offer a Mild Intervention Certificate and a Technology Certificate, along with courses for license renewal.
---
The MAT program prepares those who already have a bachelor's degree for a teaching career. Individuals can meet Indiana licensure requirements for teaching several subjects in middle or high school, or all-grade music, PE/health or visual arts.
The MA in Curriculum & Instruction program prepares high school teachers to teach dual credit, Advanced Placement or International Baccalaureate classes at their school, or to teach undergraduate college courses. As part of the curriculum, teachers must choose a dual credit concentration in English, U.S. History or Psychology.
iLEAD is a principal preparation program designed for current teachers who want to move into school administration. This innovative program is taught in a hybrid online/in-class format by faculty who have demonstrated success as building and district leaders.
The Teach (STEM)3 Program is for career changers or recent grads who have degrees in math or science.